JOURNALS
The Revolution Binding

The only hard cover book that opens flat and beyond. Case bound books, invented circa 1500, open well, but must be held flat. Hand Made Books' exclusive invention is the Revolution Binding. This book opens flat and beyond.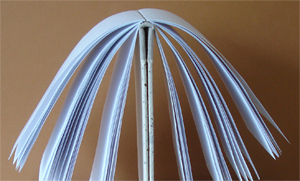 Perfect for sketch books, as coils can bend and no longer function. Sewn pages do not come apart like perfect binding (glued paperbacks). This binding is as versatile as it is beautiful.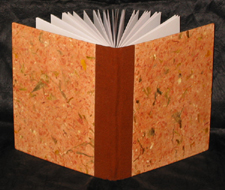 RESTORE OLD BOOKS
Restoration at Hand Made Books
Hand Made Books specializes in the restoration of antiquarian books as well as repairing damage to modern bindings including grandmother's cookbook.
Past commissions range from a 1725 Luther Bible to 1950's children's books and all historic periods in between. Precious books are not only stabilized from further decay, but are reconstructed so future generations can view, handle and enjoy as if the book were new.
Cover Before

Cover After

Pages Before

Pages After

Cover Before

Cover After

Pages Before

Pages After

SPECIALTY BINDING
Specialty Binding and Custom work at Hand Made Books
A Book of Greetings, Good Wishes and Memories
Keepsake cards in a box? Have them professionally bound into an archival quality binding. Hand sewn with linen thread, no gluing. Enjoy memories at a touch of your hand.
Scattered Cards

Cards bound into book

Book opens flat

Restoration or specialty binding projects available within Edmonton, Alberta, Canada. To buy a Hand Made Book in person, visit my booth, in Row 9i, at the Old Strathcona Farmers' Market - every Saturday 8 am to 3 pm. Or contact Hand Made Books directly: